Alla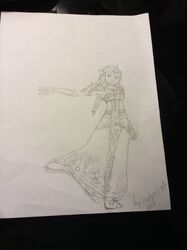 GENERAL INFO

NICKNAME(S)

Lady or Princess Allanetta Alla

GENDER

♀

Female
SPECIES
Hylian
CURRENT STATUS
Alive
AGE
13
BIRTHPLACE
Castle Town
ALIGNMENT
Good
PERSONAL INFO

RELATIONSHIPS

Zelda and Mandrid

CLASS
Mage
OCCUPATION(S)
Princess
WEAPONS
Magic
MISCELLANEOUS INFO

SERIES
Legend of Zelda
CANON APPEARANCES

The Legend of Zelda: DescentHyrule Heroes
"I'm not spying! I'm, um, informing myself! Yeah, that's it!"


— Alla, After being asked why she was spying.
Alla is the youngest of the 3 Royal Siblings, the sister of Zelda and Mandrid. Alla meets Link for the first time when he enters Hyrule Castle looking for Zelda, and acts sort of like Young Zelda from OoT, by showing Link Ghiriham and Ganondorf through an open window. She then shows him the way to Zelda. Alla later on finds Link after he'd been knocked out by the Shadow Girls. Alla doesn't again meet Link until after he meets Raurana and Jaynle. At this time, however, she has awakened her sealing power and travels with Link to safehaven.
Early Life
Alla is seen living a life in Zelda and Mandrid's shadows, but while Zelda often ignored her, Mandrid cared about Alla. After Mandrid's death, Alla remained pretty lonely.
Personality
Alla is seen as a generally happy person, but is sometimes also seen as lonely. She is also spunky and headstrong, and is sometimes seen as having low self-esteem as a result of years of being compared to Zelda.
Appearance
Alla looks simaliar to Zelda and Mandrid, though the only trait all 3 share is green eyes. Alla has blond hair, simaliar to Zelda.
She wears a blue dress, unlike Zelda's purple and Mandrid's red and orange.
Appearances
Alla appears in The Legend Of Zelda Descent as the Sage of Sealing.
Alla is a playable character in Hyrule Heroes. She fights with sealing magic, and can temporarily stun a character under the right conditions.
Gallery
Community content is available under
CC-BY-SA
unless otherwise noted.