Alice Harumi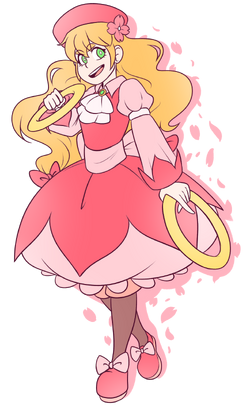 Spring Master
GENERAL INFO

NICKNAME(S)

Arisu-chan (

Luize

,

Lorelei

,

Yuki

)

GENDER

♀

Female
SPECIES
Human, Arahitogami
AGE
20
BIRTHDAY
March 20th
ZODIAC
♈ Aries
BIRTHPLACE
Aozora,

Senkaihi
PERSONAL INFO

CLASS
Magician, Manipulator of the Spring Equinox
MISCELLANEOUS INFO

CANON APPEARANCES

Master of Four Seasons
Alice Harumi (晴海アリス Harumi Arisu) is an human who is descendant of a god (an Arahitogami) who owns magical powers based on Spring, and controls the spring season. Alice is the main protagonist of the Master of Four Seasons series.
Story
TBA
General Information
Personality
Alice is a very confident, kind and dutiful girl, sometimes too much which makes her have trouble thinking for herself. She loves spring, which is kind of obvious since she can manipulate it. However, Alice can get angry easily, which makes her kind of impatient sometimes. She has respect towards people she knows and some she may not know, and she specially loves her adoptive parents who raised her since she was born, even after they told her they were not their biological parents.
Ability
Alice's ability is to manipulate magic based on spring (so she can manipulate the wind with cherry petals and use magical powers to her desires). She also can manipulate the Spring season itself, so she along with Yuki, Lorelei and Luize, are in charge of the season cycle.
Design
Alice's design shows that she has a light pink and magenta outfit. She wears a light pink dress covered by a cherry petal-like little dress and light pink sleeves with petal-like borders. Her dress is also adjusted by a white ribbon. She wears a pink cap and dark brownish pink socks. She has pink shoes with small ribbons.
Relationships
TBA
Gallery
Trivia
Her birth date is the date the Spring equinox starts. This also applies to Luize, Lorelei and Yuki with their respective seasons.