Alhex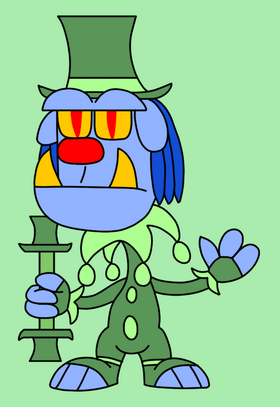 The Moody Magician
GENERAL INFO

GENDER
♂ Male
SPECIES
Cursa Clown
CURRENT STATUS
Active
ALIGNMENT
Evil
PERSONAL INFO

CLASS
Mini-Boss
OCCUPATION(S)
Circus Magician
— Alhex getting ready to fight Skip and Sqak
Alhex is an antagonist of Skip and Sqak Reboot Series. He's a gloomy Cursa Clown who works as the magician of the Cursa Clown Circus. He appeared as the fourth mini-boss in Skip and Sqak World trying to stop Skip, Sqak and their pals from hindering Vexter's grand opening to Vextropolis.
Appearances
Skip and Sqak World
Prior to the events of the game, Alhex and the other Cursa Clowns were hired by Vexter and Zarkia to help promote the grand opening of their city, Vextropolis, and stop the gang from defeating Vexter.
Alhex appeared in Glacierabia, where he was holding Robin hostage. When Skip and Sqak arrived to his circus tent, Alhex fights the duo using his magic to teleport around the ring and shooting projectiles but after a few teleports his magic wand will malfunction for a few seconds, leaving him open for an attack. Defeating Alhex will free Robin, allowing the swallow bird to be a playable character, and unlock more places in Glacierabia to explore.
TBA
Trivia
His name is a mix of the name "Alex" and the word "Hex".
Community content is available under
CC-BY-SA
unless otherwise noted.