This character has been named under Eastern Slavic Naming Customs The patronym is Konstantinovich and the family name is Zhuvinskiy
Alexander Zhuvinsky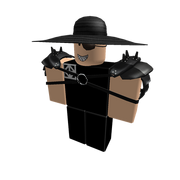 GENERAL INFO

NICKNAME(S)

synaptic_connections (ROBLOX) XNDUIW Alexander (FANDOM)

GENDER
♂ Male
SPECIES
Human
AGE
20
NATIONALITY
Russian-Canadian
PERSONAL INFO

RELATIONSHIPS

Nikolai Abulinov

(assistant)

Konstantin Zhuvinsky (father)

Anastasia Zhuvinskaya (sister)

CLASS
Friend
Aleksandr Konstantinovich Zhuvinskiy [Russian: Александр Константинович Жувинский] is known by his alias, synaptic_connections in ROBLOX, however, he often does programming, and has the glitch ability in Miitopia. Meanwhile, he is somehow managing to become a good person, although he is also experienced in parkour. He can be most commonly seen in ROBLOX, but he may also be great towards other people, often working, He emigrated from Russia, eventually settling somewhere in Calgary, his sister, Anastasia, worked as a teacher in Edmonton, but after his father died, his sister took care of him. His father ultimately died from a heart attack, and he relatively is a college student. He can program LUA extremely well, but somehow managed to successfully program other ROBLOX scripts to assist other people as well, he is often known as XNDUIW Alexander in FANDOM, however, he was accused of being a sockpuppet, but he disapproved his block from Fantendo, and assisted from programming ROBLOX LUA, and using it to his advantage to program tools. He appears in ROBLOX as well.
Appearances
ROBLOX
He appears most frequently in ROBLOX, doing parkour, his most favorite game is Flood Escape 2.
Miitopia
He occurs in Miitopia sometimes, but he is usually a citizen.
Personality
Alexander tends to be quite lenient, and often quite shy, he tends to write down certain LUA code to someone, he is somewhat mute, but he can speak, He grew up speaking English, and he was unable to speak Russian, after he emigrated with his father and sister when he was just a young child.
Relationships
Anastasia Zhuvinskaya
He got along well with his sister, when his father died, his sister took care of him very well.
He does get along well with Nikolai Abulinov.
Trivia
LUA is a coding language that ROBLOX uses.
Community content is available under
CC-BY-SA
unless otherwise noted.