Alex Jereni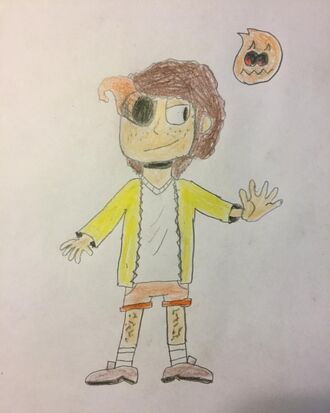 Alex's official artwork.
GENERAL INFO

GENDER

♀

Female
SEXUALITY
○ Asexual
SPECIES
Human/ghost
CURRENT STATUS
Alive
AGE
17
BIRTHDAY
August 18th, 1999
ZODIAC
♌ Leo
HEIGHT
6,5
WEIGHT
161 lbs
BIRTHPLACE
New York City
NATIONALITY
Canadian-American
ALIGNMENT
Good
PERSONAL INFO

RELATIONSHIPS

Allen Jereni (good)

Paul Jereni (good)

Abra Jereni (???)

The Allseer (bad)

OCCUPATION(S)
DJ
LIKES

Music, skateboarding, dogs, ghouls, hunting demons

DISLIKES

The Allseer, demons, the alt-right, roller skates, salami

WEAPONS
Ghost fire
MISCELLANEOUS INFO

SERIES
Shadow Lands
CANON APPEARANCES

Shadow Lands
Shadow Lands
Alex Jereni is the younger of the Jereni twins and one of the main heroes of the Shadow Lands franchise. Alex is a ghost/human hybrid, alongside her brother Allen. They've made a deal to completely eradicate the demon menace from the face of the planet, with said army being led by the evil demi-god known as The Allseer.
Personality
Alex is a very outgoing fast-thinker in terms of her personality. She's always making up plans around something, whether it be something mundane like getting the best discount at a Chinese buffet, or something that REQUIRES said planning like taking down an army of demons. Alex's "get up and go" nature is backed up by her can-do attitude, which makes her an overall determined person. When it comes to bringing down the demon menace, however, Alex fuses the responsibility of taking them out with her zest for adventure and life. Her fighting style, better defenses in her ghost form, and her adventurous nature combine to make her a pretty dangerous opponent to fight against.
Powers
Alex doesn't have superpowers in her normal human form.
Skateboarding: Alex is extremely good at skateboarding to the point where she integrates it into her fighting style. She uses skateboards as shields and other weapons, or she can do standard skateboard moves like a kickflip.
Alex when in her ghost form, has a varied amount of supernatural powers.
Ghost Fire: Like her brother, Alex's skin and muscles are replaced with a ghastly orange fire that brings harm to both the living and the dead.
Super Strength: Alex's strength has been boosted to the point where she can lift large tanker trucks with ease. Throwing demons is nothing to her.
Ghoul Summoning: Just like all other ghosts (and ghost/human hybrids), Alex can summon Ghouls from the Spirit Dimension to help her out.
Enhanced Durability: Alex's durability has been enhanced drastically, allowing her to take quite a few hits before really getting hurt.
Paranormal Pro Skating: Alex combines her skateboard experience with her ghostly powers to deliver a world of hurt to her adversaries.
Trivia
Alex is canonically a transgender girl.
Alex works as a DJ-for-hire, usually working for parties or music festivals.
Alex has tried to become an artist before, but eventually quit after she found her love for DJing.
Her pet ghoul is her best friend, with the name of it being Mixer.