Alex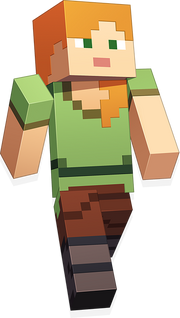 Official artwork of Alex
GENERAL INFO

GENDER
Genderless / Female

*

SPECIES
Humanoid
CURRENT STATUS
Alive
BIRTHPLACE
Overworld
MISCELLANEOUS INFO

CANON APPEARANCES
Alex is one of the two main protagonists of Minecraft. Alex is one of the two default skins that the player is given upon creating a Minecraft account, the other being Steve. Compared to Steve, the "Alex" body model has thinner arms, thus giving the player's skin a thinner appearance than should they use the "Steve" model.
Physical Appearance
Compared to Steve, Alex's design features clearer skin and a more unique character design, opting to be a recognizable avatar over the more-generic design of her male counterpart. In her most recognizable default design Alex has long orange hair that she wears over her left shoulder and drapes across her light green T-shirt that features darker green accents and cuffs. She wears brown pants and has light brown, almost-grey, boots. Much like Steve, her appearance is very angular, matching the blocky aesthetic of Minecraft, and because of this she only feature 2 pixel-wide green eyes that make her appear cross-eyed.
Game Appearances
Alex appears in Jake's Super Smash Bros. as a playable character. Her moveset is shared with Steve, and she takes up half of his alternate costumes. While the two play exactly the same, Alex is recognized by the in-game announcer as a character separate from Steve.
Alex is a playable character in PlayStation All-Stars: Ultimate Battle. He is the echo fighter of Steve. He has 8 palette swaps.
Gallery
Alternate Console Edition Skins