Adeleine is not from Fantendo. However, this article may include related fan ideas.

These external sources may have official, more accurate information:

This article is free to edit. Please follow the article standards and respect good-faith contributions.
"Adeleine, an aspiring artist, comes to Pop Star to study art but finds herself in the middle of a Dark Matter mess"


— Kirby 64 instruction manual
Adeleine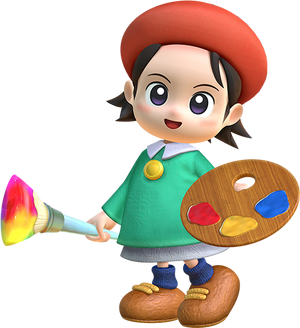 GENERAL INFO

NICKNAME(S)

Ado

GENDER

♀

Female
SPECIES
Human
CURRENT STATUS
Alive
BIRTHPLACE

Pop Star

ALIGNMENT
Good
PERSONAL INFO

CLASS
Artist
WEAPONS
Paintbrush
Adeleine (Japanese: アドレーヌ Adorēnu) is a human painter who lives on planet Pop Star. A young artist, Adeleine is a recurring character and friend of Kirby's who is sometimes fought by him as a boss due to being possessed. In Kirby's Dream Land 3 she was known as Ado. She has the ability to make the objects in her paintings become real.
Physical Appearance
Adeleine appears to be a child, who has short black hair parted around her forehead and mostly hidden beneath a red beret. She has dark grey, almost, black, eyes and rosy cheeks not unlike Kirby. Adeleine wears a smock with a white collar and, depending on the game, either one or two yellow buttons; her smock is shown to be a teal colour in official artwork, though is depicted as a light green in-game. She also wears a short grey skirt, navy blue knee-high socks, and brown shoes with yellow laces. When she is possessed by Dark Matter in Kirby 64: The Crystal Shards, Adeleine is depicted with peach-coloured eyes with thin black pupils.
In Kirby's Dream Land 3, Ado's beret does not hide as much of her hair as it does in Kirby 64. In this game, her black hair is as short as it is in her later appearances, though it is swept to reach just above her right eye. Because of more androgynous appearance in this game it was initially thought by fans that "Adeleine" and "Ado" were two separate individuals, with the latter being a bishōnen male.
In the multiplayer Sub-Games of Kirby 64, the player can choose to play as one of four different palette swaps for Adeleine. In addition to her normal appearance, the player can also choose to have her wear a purple smock and pink beret, a light-orange smock and brown beret, or a light-blue smock and light-yellow beret.
Not counting characters from other series who have made cameos, Adeleine is the only known human to exist within the Kirby series. Despite this fact, she is only about 10 inches tall (this is compared to Kirby's height, as he is canonically 8 inches tall.)
Canon Appearances
Kirby's Dream Land 3
Adeleine — referred to as "Ado" in this game — is fought by Kirby as the boss of Cloudy Park as one of the victims of Dark Matter's possession. She draws several monsters to attack Kirby.
Kirby 64: The Crystal Shards
Adeleine is again possessed by Dark Matter and fought as a boss, this time early on in the story. After her defeat, she joins Kirby's crew to help collect the Crystal Shards and defeat Dark Matter. She occasionally appears in levels to draw food for Kirby to eat to heal him. Adeleine is also playable in the multiplayer sub-games.
Kirby Star Allies
Adeleine reappears after a long absence in Star Allies and makes her playable debut in the series (outside of minigames). However, she is joined by Ribbon from Kirby 64 as a duo character. She can use her paintbrush to attack as well as paint paintings of enemies and bosses to attack for her. She can also team up with Ribbon to fly and use Crystal Shard-based attacks.
Fanon Appearances
Adeleine is a playable character in Kirby: Onslaught. She is found by Kirby, Ribbon, and Waddle Dee fighting Demons in King Dedede's castle. She joins them on their adventure and aids in defeating Dark Matter.
In Kirby: Dark Fury Adeleine is once again a playable character. She runs Kirby down while running from her favorite painting spot after finding a familiar insignia. She joins Kirby again to fight Dark Matter. It is rumored that her homeworld will be a world in the game.
In Kirby: Dark Dawn (formerly under the working title Kirby: Dream Land's Hope), Adeleine is a playable character after defeating her in her possessed form. After she is saved and tuned back to her normal self, she joins Kirby with her magic painting abilities. When enlisting helpers, she paints her own after defeating them.
Adeleine appears as a playable character in Jake's Super Smash Bros. Similar to her boss fight in Kirby 64 and her playable Dream Friends appearance in Kirby: Star Allies, Adeleine's moveset revolves around summoning various Kirby enemies by painting them.
Adeleine is a playable character in Kirby x Super Smash Bros. for the Nintendo Switch. He is paired with Ribbon and both have 12 palette swaps.
Adeleine appears as a secret character. She is unlocked by spending 15 Paintbrushes.
Stat Modifiers: +3 Charge, +1 Turn, -3 Defense, -1 HP
Special Ability: Magical Painting - Pressing Y will make Adeleine start painting.  If she is damaged during painting, she will be interrupted and have to start again.  She'll make two paintings - first, a random Food item to heal her, and then a random item from the Item Roulette list.
Gallery