9-Volt is not from Fantendo. However, this article may include related fan ideas.

These external sources may have official, more accurate information:

This article is free to edit. Please follow the article standards and respect good-faith contributions.
9-Volt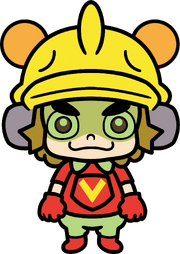 9-Volt in WarioWare Gold.
GENERAL INFO

GENDER
♂ Male
SPECIES
Human
BIRTHPLACE
Diamond City
ALIGNMENT
Good
MISCELLANEOUS INFO

SERIES
Wario, specifically WarioWare
CANON APPEARANCES
9-Volt is a major character in the WarioWare series, having appeared in every game in said series. He is an avid gamer who attends Diamond City Elementary with his close friend 18-Volt and lives with his mother 5-Volt and pet Fronk.
Appearances
9-Volt is an unlockable playable character in this game, being one of Fawful's hypnotized assistants in his goal of hosting the greatest party of all time and establishing his own timewarp kingdom.
He hosts the "Game POWER!" level in this game, where he gives the player some classic Nintendo-themed microgames to play, like he does in other WarioWare games.
Star Team Heroes
He's one of the victims of the Kirthar's Snap Finger.
Quotes
Mario! I am your biggest fan! I played all your games!
Mom! Please let me play some more video games!
Gallery