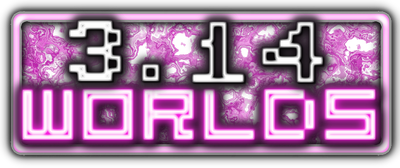 3.14 Worlds is a real time, tactical RPG game that follows the events of 3.14 and the other Ambients from A22 heading into space after the events of Fantendo - Genesis. Originally conceived as a story and being stuck in developmental hell for years, the project reemerged in 2018 under a new focus although much of the original plot intended for the game would stay the same. The game was developed by Toroko under the Infinite Content branding.
Gameplay
3.14 Worlds is a RPG, with exploration being top-down and battles being on a grid. The two playable characters, 3.14 and Flicker, have two different ways of doing battles, with 3.14 protecting his allies and generally trying to survive battles while trying to talk to the opponent to befriend them. 3.14 can collect good vibes and either defend or avoid bad vibes from the opponent to increase his friendship meter with bad guys, as well as protect allies. Flicker on the other hand, is more of a typical RPG fighter, although she shares some similarities with 3.14's battlesystem, such as collecting vibes to power up her meter as well as protecting allies. More differences can be found under the "Playable Characters" section.
During gameplay when facing off enemies and bosses, the playable characters can shift into three different modes by pressing the trigger buttons on the controller. For 3.14, these modes are Act, Guard, and Hide. For Flicker, these modes are Fight, Guard, and Absorb. These modes are also detailed under the "Playable Characters" section.
3.14 can exclusively Input into enemies, allowing him to control them until the player drops out of them, allowing him to use their abilities to good use as well as ending fights in a new form. 3.14 will never use their attacks to harm others. Meanwhile, Flicker can Absorb enemies, allowing her to build up levels much faster than 3.14 and even gaining certain enemy abilities along the way.
Plot
Premise
3.14 Worlds takes place after Fantendo - Genesis, after 3.14 and Flicker take a rocket ship into space with a bunch of Ambients collected by A22 Industries. The rocket comes into contact with a planet made of light, of which they find many other Ambients that have created their own utopia. As 3.14 and Flicker discover later on, not everything is exactly how it seems with the citizens of this world and the people that inhabit it, with the world being created out of the collected data of a old MMO.
Chapters
3.14 Worlds Story
Chapter
Summary
Prologue: Intro


---

N/A

tba
Chapter 1: Sad Machine


---

3.14

tba
Chapter 2: Easy


---

3.14

tba
Chapter 3: Sea of Voices


---

Flicker

tba
Characters
Playable
3.14 Worlds Playable Characters
Character
Information



3.14


The non-violent hero of this adventure. 3.14 previously was created by A22 but escaped after realizing his purpose, wanting to break away from that. He now leads the A22 Ambients, of which include his friend Flicker. He is attempting to resolve all his conflicts through peaceful means, even when it seems impossible.

Ability Name
Description
Input Breaker
Level 1
Act

3.14 attempts to Input himself into the enemy. Some enemies have a shield to protect themselves from this but 3.14 can break it by using this ability until the shield breaks, taking control of the enemy and ending the fight.

Chroma Heal
Level 1
Guard

From collecting Good Vibes, 3.14 is able to build up a charge to heal other Ambients or being with a high amount electricity in them. This basic variant of the ability only heals about 15% of total damage.

Light Camouflage
Level 1
Hide

3.14 hides himself, causing enemies to be unable to see him and not be able to attack him directly.

Virtual Pie
Level 3
Act

3.14 can create a pie created out of lie- this pie is not edible and vanishes after a couple seconds into a flash of light after being thrown. This can blind some enemies, giving 3.14 a advantage, although may slightly aggatate his opponents and make it harder to make friends with them.


Flicker

Flicker is a complicated character with a condition brought onto her during the transition process. This condition causes her to glitch the environment around her when she is emotionally unstable, and this can seriously harm those around her. As such, she isn't afraid to attack- not because she doesn't want to follow in 3.14's peaceful footsteps, but because she knows she will likely harm those in her way regardless.

Ability Name
Description
Glitch Shard
Level 1
Fight

Flicker sends out a shard at her opponent that causes them to be afflicted with the Glitch Affliction, damaging them over time for a short period.

Clones Chromatic
Level 1
Guard

Flicker briefly splits herself into blue and red hue clones that allow her to cover more space on the field, although these clones don't really attack and instead guard against attacks to cover their small HP before going back into Flicker. Useful for protecting allies but nothing else.

Interference Fuse
Level 1
Absorb

Flicker can destroy a enemy's input shield and create a explosive fuse inside them, doing massive damage inside of them.

Virtual Sakura
Level 3
Fight

Flicker sends out a bunch of deadly Sakura flowers to roll across the battle field, rolling towards the opponents to do some damage and cover a lot of the field.
Allies
3.14 Worlds Allies
Character
Information



Synda


Synda is one of 3.14 and Flicker's many allies hailing from A22. Synda is a odd child, obsessed with the concept of death and all that comes with it, but having a oddly optimistic attitude. She was a child that was formerly tested on for the Ambient program by A22, and was abandoned after the test was deemed unsuccessful because of her ability to bring things back from the dead- not at all intended by A22.

Ability Name
Description
Deathbiter
Level 1


Synda has a 10% chance of reviving a ally or the player when they die with 25% of their max health.


Qhua

Qhua is one of 3.14 and Flicker's many allies hailing from A22. Qhua is a young child oddly obsessed with fish and water- which dilutes her light when she is covered in it. While she can regain light back through solar rays, this makes her unusually dim for a Ambient, which usually glow in darkness. She can also hold water in her body and heat it with her Ambientness- although her unwillingness to become a child soldier meant she was abandoned by A22.

Ability Name
Description
Aquarium of Heat
Level 1


Qhua can cover a set of two tiles in a heated puddle, which will cause opponent's attacks to become weaker.


Light

Light is one of 3.14 and Flicker's many allies hailing from A22. Light is really against 3.14 more than anyone else- having acting as the protector of these Ambients when nobody else would. Light is one of the few fully-created Ambients like 3.14, but like him, deflected. He never had the nerve to fully escape the facility, but he just wants what's best for the other Ambients, and that sometimes messes with what he finds acceptable.

Ability Name
Description
Light Guard
Level 1


Light guards his allies and Flicker in a bubble shield that deflects non-light attacks off.


Katie

Katie is one of 3.14 and Flicker's many allies hailing from A22. Katie is one of the first people to undergo the Human to Ambient process- while slightly more composed than Flicker, she still suffers from the same condition Flicker has and may not actually have that long to live. She is neurotic and scared, usually seen crying frequently. Flicker grows a close kinship with Katie, one that might not be to either one's benefit.

Ability Name
Description
K-Drive
Level 1


Katie powers the player character with some of her energy, adding 20% more power to attacks.
NPCs
3.14 Worlds NPCs
Character
Information



Looker


tba



Ariel


tba



Continuar


tba



Palmer


tba



Purogurashi


tba
Collectibles
3.14 Worlds Collectibles
Character
Information



3.14 Coins and Flicker Coins


tba
Worlds
Enemies
3.14 Worlds NPCs
Character
Information



Orben


Orbens really aren't going to cause anyone much harm, but they'll still try to fight 3.14 and Flicker.

Ability Name
Description
Orben Orbit
Level 1


Orben attacks by circling the orbs around them and then releasing, doing light damage to anyone they actually manage to hit. This move actually has a really high miss rate.

---

This form only really works over the Overworld, but it allows 3.14 to float across gaps and blend in with enemies when 3.14 Inputs into this enemy.
Bosses
Gallery
Trivia
The story is the last of the originally planned stories in the Genesis Arc that was set up during the development of Fantendo Smash Bros. Shattered. Due to the long period of time that takes place in the story, it can be seen as it's conclusion.
The story was also based off a idea given to Exotoro (t∣b∣c) by YoshiEgg (t∣b∣c). The plot takes some inspiration from the Worlds album by Porter Robinson as well as Silent Runnings by 65daysofstatic.
The new focus was inspired by a idea given by CrunchTime420 (t∣b∣c) of a 3.14 Battle Network game. The gameplay will be somewhat like Battle Network but with twists inspired by 3.14's abilities as well as his peaceful attitude.
Community content is available under
CC-BY-SA
unless otherwise noted.