18-Volt is not from Fantendo. However, this article may include related fan ideas.

These external sources may have official, more accurate information:

This article is free to edit. Please follow the article standards and respect good-faith contributions.
18-Volt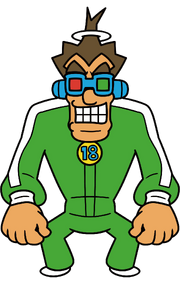 18-Volt, as he is seen in WarioWare Gold.
GENERAL INFO

GENDER
♂ Male
SPECIES
Human
CURRENT STATUS
Alive
RESIDING AT
Diamond City
ALIGNMENT
Good
MISCELLANEOUS INFO

CANON APPEARANCES
VOICE ACTOR(S)

Edward Bosco (since 2018)
18-Volt is a major character in the WarioWare series, debuting in WW: Twisted!. Despite his name, he is not related to 9-Volt in any way. He goes to the same school as 9-Volt, despite clearly looking like a high schooler.
An incredibly cheesy stereotype of 1990's rappers, 18-Volt has his own set of Microgames in the WarioWare series, most of which he hosts along with 9-Volt. They are mostly based on Nintendo's NES titles.
Fanon appearances
18-Volt is known to be a playable character in at least two games on Fantendo: Mario Rugby and Mario Rugby Union.
He was part of the "WarioWare Inc." DLC pack in the former, where he appeared alongside many other WarioWare characters. Very little is known about him. In the latter game, he is part of the base game as an unlockable character, in the "Scrum-Halfy" class.