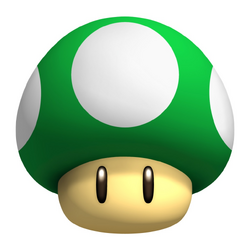 "Oh, get a life. Literally! Go get than green mushroom!"


— Kooprus, Paper Mario: Boom Boom's Revenge
1-Up Mushrooms are a type of Mushroom that are very common in the Mario series. It will give Mario an extra life if he grabs it. There are various ways to get 1-Up Mushrooms, mostly from ? Blocks or Hidden Blocks. Jumping on six Para-Beetles in a row will also get Mario a 1-Up Mushroom.
Appearances
1-Up Mushrooms appear in SMWWii, along with the brand new type called the 1-Down Mushroom, which takes it's user's life away without killing it.
1-Up Mushrooms reappear in the do it yourself game New Super Mario Bros. D.I.Y. along with its poisonous counter-pattern the 1-Down Mushroom.
This mushroom gives to the "player" a extra life (1UP).
Despite the Wii U/3DS title lacking any sort of life-system, 1-Up Mushrooms still appear scattered within the 10+ worlds, where their new purpose is to completely refill the player's health gauge.
1-Up Mushrooms reprise their role from the original Super Mario Bros. trilogy in this game, adding one life to the plumbers' total.
1-Up Mushrooms appears in Super Mario Moose as items. Like in past games, they grant the player an additional life.
1-Up Mushrooms appear once again in Super Mario Moose Deluxe, where they act the same as in the previous game.
Gallery
Community content is available under
CC-BY-SA
unless otherwise noted.